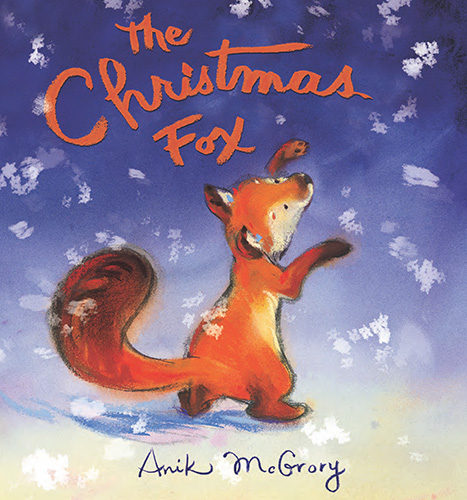 The Christmas Fox
by Anik McGrory • published by Knopf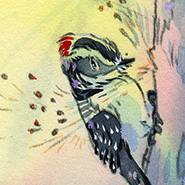 a woodpecker,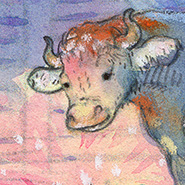 a cow,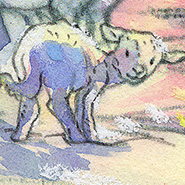 a lamb,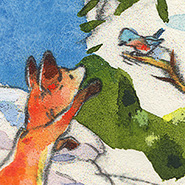 and a bluebird

all encourage the little fox
to welcome the new baby to the barn,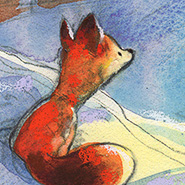 but the little fox has nothing to share.
What will he do?






Click below for free downloadable craft activities!











KIRKUS REVIEW


A young fox follows other animals into a stable, where he makes a newborn baby smile.

In this understated, beautifully illustrated Nativity story, a little fox is invited to come along on a journey because a baby will be arriving soon. A woodpecker states, "There's work to be done." A cow, a lamb, and a bluebird all plan something to give to the baby, but at each invitation, the fox stays behind to play alone in the snow. Even the stars call out to the fox, but he thinks he has nothing to offer to a baby. A kind donkey invites the fox inside the stable: "Just come. It is enough." The fox creeps up to the manger, holding up his paws; the baby responds by holding out his arms with a smile. A final wordless page shows the fox curled up asleep next to the lamb. Observant readers will notice the fox is playing with an acorn in the snowy scenes, and he does offer his acorn to the newborn child. The baby has pink skin and auburn hair, and he is never named as Jesus. Only the animals are present in this interpretation; the parents of the baby are not included in the scene. Glowing watercolor illustrations in a loose, expressive style capture the antics of the fox and create an exciting environment of starry skies, snowy fields, and a light-filled stable.

A lovely, gentle, and open-ended introduction to the story of the birth of baby Jesus. (Picture book. 2-7)
PUBLISHERS WEEKLY

McGrory (Quick, Slow, Mango!) transplants the Nativity story to a snowy woodland setting, where a puppylike fox ignores the urgings of his fellow animals as they prepare for the baby's arrival. "Come!" says a brown cow, peering back at the fox as it trudges toward a distant barn. "A baby is coming. There's a place to make warm with sweet-smelling hay." Instead, the fox romps in the woods, eventually coming to believe that he has nothing to share with the child. "Just come," urges the donkey. "It is enough." It's a distinctly allegorical version of the story—Mary and Joseph are unseen, and fox's recalcitrance recalls Aesop's "The Ant and the Grasshopper." Yet McGrory's soft, gestural artwork, washed with pale color and infused with lemony light, celebrate the fox's play, and his joyful spirit is a gift both to the waiting child and to readers. Ages 3–7. Agent: Victoria Wells Arms, Wells Arms Literary.